Replacement Game Player battery

SONY, Nintendo, and Microsoft occupy the console market in the game field. With their powerful game console performance, they can run most of the games on the market smoothly. With technological updates, Sony and Microsoft abandoned the previous wired controllers on their own game consoles and switched to wireless Bluetooth controllers, which saved a lot of space, and Nintendo launched the portable console Switch.
In any case, these gamepad controllers are inseparable from the battery. When the service life reaches a certain level, the battery life will be reduced, which means that each time it is fully charged, the battery life will decrease, which will cause trouble to players. .
Today Sunwind recommends several game console batteries for your reference.
Replacement Rechargeable Wii U Gamepad Battery

15

00 mAh
l Perfectly Compatible with Nintendo Wii U Gamepad.
l High Capacity --- Our product`s battery capacity is 3600mAh, which is twice that of the original Wii U battery(1500 mAh). High capacity can late longer than the original battery, which brings you adequate game time for entertainment.
l Easy to Install --- Comes with a screwdriver! Easily to opening the latch with this screwdriver, Our extended battery fits well for Wii U gamepad as the original battery.
l Safe --- Overcharge protection, with built-in battery life microchip.
l 100% SATISFACTION SERVICE! --- Provide 1year Warranty support Buy it with confidence now.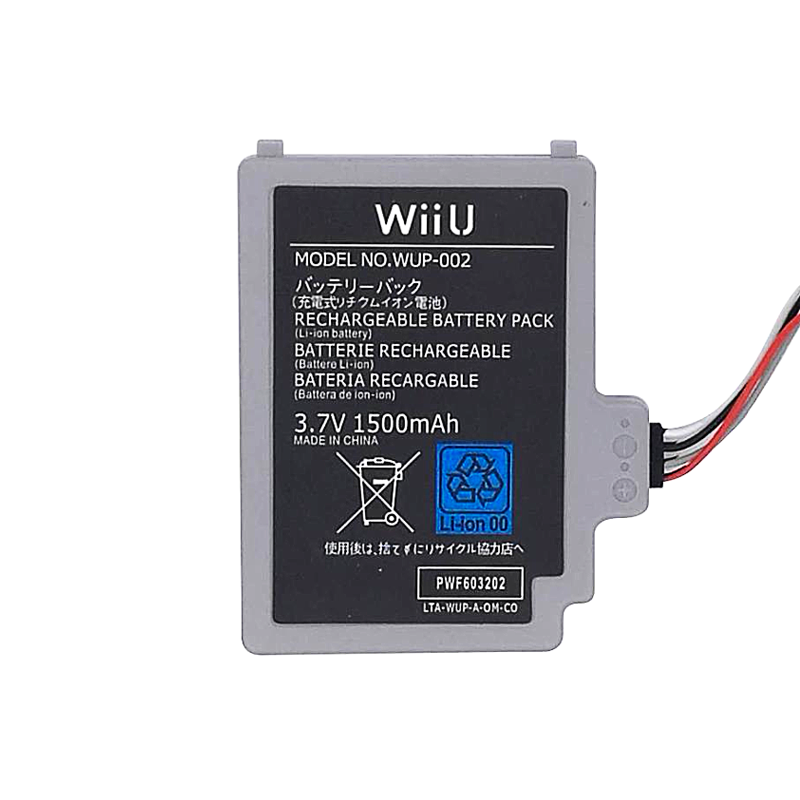 New Upgraded HAC-003 Battery Replacement Compatible with
Nintendo Switch Console Handhold
4400mAh High Capacity The replacement battery has higher capacity compared to the original, up to 4400mAh, which support longer standby time. Larger battery capacity , longer using time from now on!Compatible Model Compatible with the Following Nintendo Battery Model/Part Numbers: HAC-003, HAC-A-BPHAT-C0.
Intended for the Following Nintendo Handheld Console Models: Nintendo Switch HAC-001, HAC-S-JP/EU-C0. 3.7V 4400mAh 16Wh Lithium-ion Rechargeable Battery Pack. HAC-003/HAC-001 Internal Replacement Battery Pack, the physical size is identical to the original and it works in exactly the same way, no modification needed.
Brand New 0 Cycle New 0 Cycle battery is made of new high quality Lithium polymer material, connector, PCBA and built-in smart chip which ensure your phone is prevented fom over-heating, short-circuit, over-charging and over-discharging for safety and prolonged use.
Easy Installation Pro adhesive sticker and anti-shock pad included, hold your battery firm and strong. Includes Installation Tools, Plugs in with pre-fitted short cable and connector. Simply follow the repair guide made by us, so you can repair your console yourself.
100% SATISFACTION SERVICE! --- Provide 1year Warranty support Buy it with confidence now.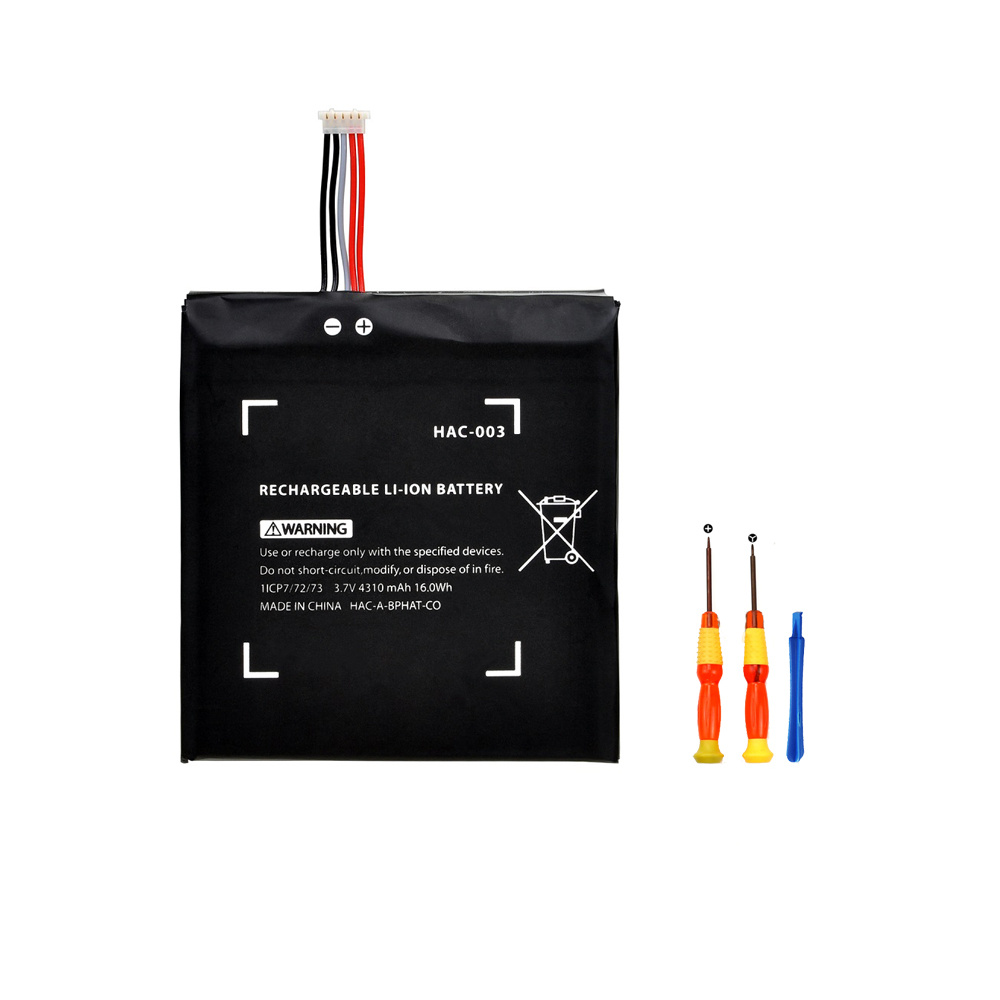 Replacement Battery for Sony PS4 Slim Pro Bluetooth Wireless Dual Shock Controller
l Li-ion battery pack, Voltage: 3.7V, Capacity: 1000mAh
l Helps to prolong the using time of PS4 Slim/Pro controller.
l The console battery is designed on the basis of specification of PS4 Slim/Pro controller built-in battery.
l Dismantle and then open the bottom cover of the PS4 Slim/Pro controller to replace the battery.
l Compatible with: the second generation new 2016 version or newer Sony PS4 Slim/Pro wireless dual shock controller (CUH-ZCT2 or CUH-ZCT2U), not compatible with the first generation old version (CUH-ZCT1E or CUH-ZCT1U)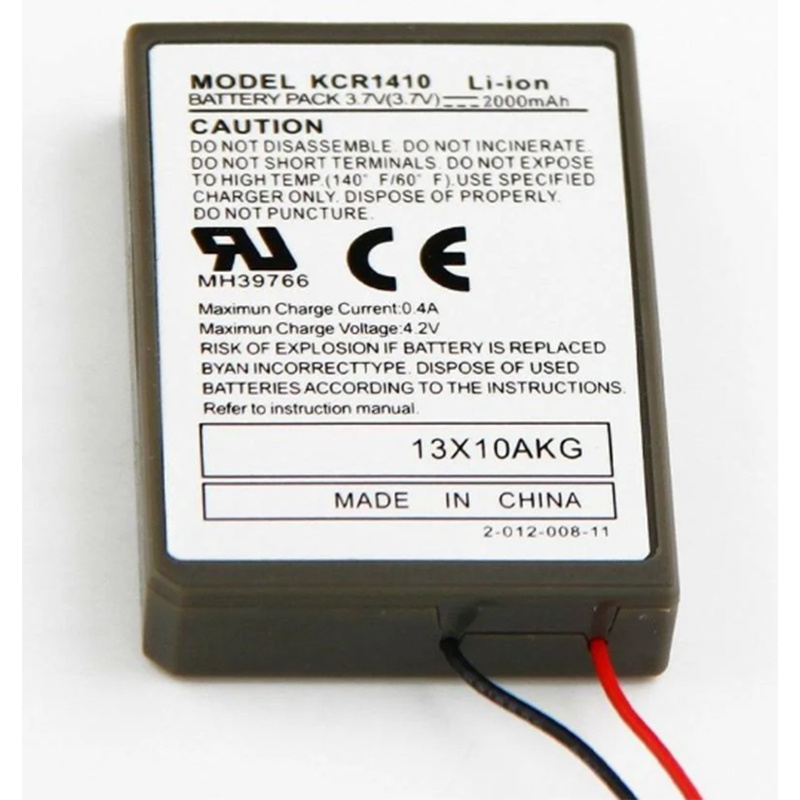 Xbox Series X|S and Xbox One Battery Pack Xbox Play and Charge Kit, XBOX-SB02
l Wider Compatibility - USB-C Cable + USB-C Micro USB Adapter for All Xbox Controllers: The rechargeable battery pack comes with a LED Type-C charging cable and a Micro USB adapter. Compatible with all Xbox controllers, including the Xbox Series X | S, Xbox One/S/X and Xbox One Elite controllers. A replacement kit suitable for all Xbox controllers.
l Type-C Charging Cable - "Y" Smart LED Indicator & 10ft Extra Long: The "Y" LED light on the connector head indicates the charging status and changes from red to blue when fully charged. .. In addition, it makes the game controller cooler and creates a killer gaming environment when charging in dark places. The premium 3m braided nylon charging cable offers freedom and is long enough to connect a gaming PC.
l LONGER PLAYTIME - LONGER BATTERY LIFE & FASTER CHARGING: Fully charged in just 3 hours with 35 hours of consistent playtime. Play and Charge Use the Xbox Controller Battery Pack and TeslaY Fast Charge Cable (3A input) to keep things going. Charge during or between games. What a carnival game!